School Without Walls is a space to dream and imagine, to think differently about school and about how learning can take place everywhere, not just within the classroom.
School Without Walls began in 2010 as a collaboration between the Egg theatre, House of Imagination, a research organisation with a focus on children and young people's creative and critical thinking (formerly 5x5x5=creativity), and St Andrews Primary School, Bath. School Without Walls uses an enquiry-based approach to learning, placing the arts at the heart of the curriculum. Educators, artists and cultural organisations work together to co-design learning alongside children, with adults observing, listening, documenting and being responsive to children's ideas. The underlying belief, influenced by Fondazione Reggio Children Foundation, is that if children are invited to follow their fascinations, as artists and creative explorers, their motivation and interests explode.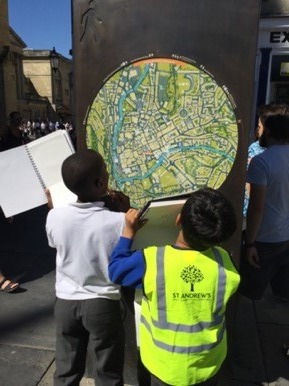 Children exploring the city as a campus for learning.
---
Children enjoy a 5-6 week creative residency where they work with artists in a cultural setting such as a gallery, museum or theatre. During the residency, children are invited to explore their interests through creative learning and responding to the local environment. They practice and develop habits of mind that artists use, such as curiosity, self-awareness and critical thinking, alongside making and sharing art. This intensive creative education experience provides many opportunities for children to explore their personal relationships with school and their own learning, with their peers, with educators, and with their community.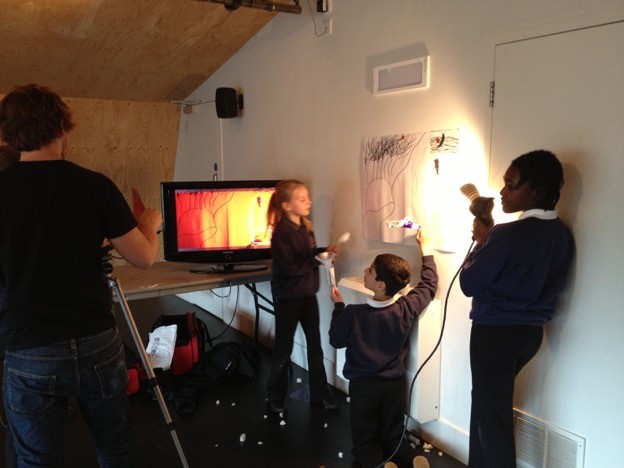 Children from St Michael's Junior School Twerton, Bath exploring their ideas in 100 languages of expression.
---
Environments of enquiry
School Without Walls creates an opportunity for educators to think about learning differently by taking it beyond the school walls and inspiring learning to happen everywhere. This 'environment of enquiry' transforms learning for both teachers and children by focusing on children and teachers' agency and dynamic relationships. If children are given choices and ownership over their learning and their ideas are trusted and supported by adults, the learning then becomes a shared enquiry. The approach is underpinned by a clear set of principles developed by House of Imagination. This research demonstrates that inspiration, immersion and invention are key to young people's learning.
"School Without Walls is amazing because there are so many opportunities and things will sometimes change you as a person." Year 5 child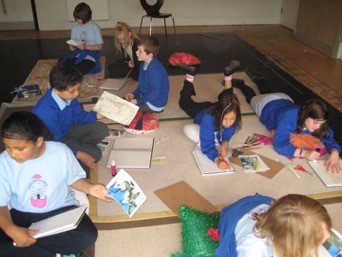 Every child has a reflective journal to document their learning.
---
Our work allows children and young people to engage in meaningful, creative enquiries in real life contexts alongside adults as mentors in the learning process. Questions might be 'Who am I?' 'How are we all different?' 'How do I belong to the city where I live?' 'How can we reconnect with nature?' Children and adults are both involved in seeking and posing good questions to deepen thinking and learning. We encourage inquisitive questions, independent thinking and critical reflection.
"I loved and gave my heart to this piece to show that I cared and took my time to finish this. If I never gave such love it may not be here for you to see." Year 5 child
The high-quality attention of adults is crucial in this process to make the learning visible to parents, educators and Ofsted, demonstrating the positive impact of our work. This involves careful observation, listening, open-ended questions and dialogue. There is constant reflection, review and rigorous collaboration between the adult team, which consists of artists, educators, practitioners from cultural centres and mentors. In addition, this provides high-quality professional development for teachers, developing their practice through action research.
---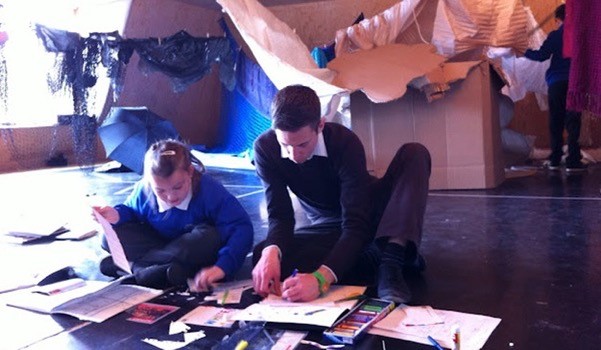 Students and teachers work alongside children in the process of co-enquiry.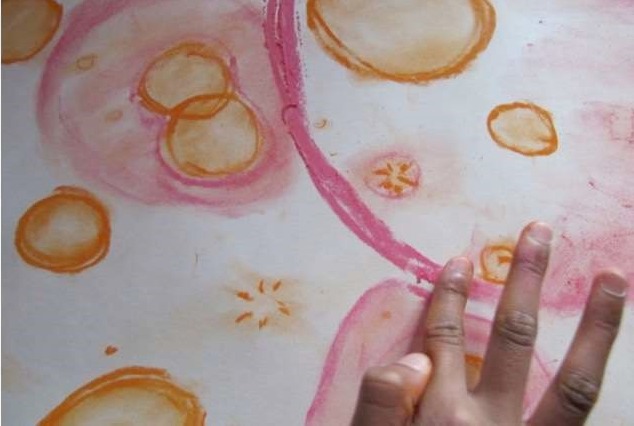 "School Without Walls is amazing because you take charge of your own learning and there's no limits to your imagination." - Year 5 child.
---
Developing the capacity to learn
Giving children and young people responsibility for their own learning develops their ability to learn whilst deepening their knowledge and understanding of the world. Children find the intrinsic motivation to learn and to understand how they learn, both as a group and as individuals. This has shown increased motivation, purposeful engagement, authentic learning and social empowerment in the children and young people we have worked with. This process also allows them to develop key skills such as how to be effective and confident communicators and how to cooperate and collaborate well with others.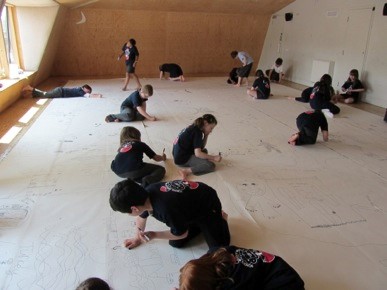 Children from St Andrew's Primary School, Bath are involved in co-enquiries in inspirational cultural spaces.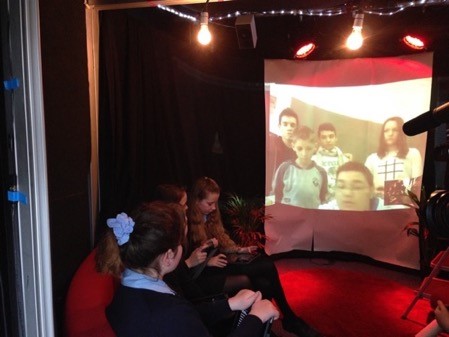 Years 7-9 students at Writhlington Secondary School, near Bath, exploring questions about what school and learning means to them with students across the UK, Serbia and Rwanda.
---
What's in it for teachers?
School Without Walls isn't just for children. We've found that the initiative gives teachers the opportunity to revisit their values, to re-imagine the future of schooling and to explore these principles in a safe and supportive environment.
"One of my ambitions for School Without Walls is to give disadvantaged families and children access to quality art and creativity in Bath." Chris, Head Teacher

"The biggest thing about this project is that it has just allowed me to relax and let the children have ownership over their learning. For a teacher, I think that is quite hard, but you become an observer rather than trying to lead them the whole time. It's taught me that they don't always need leading." Sam, Educator
---

Children from St Andrew's Primary School at the Art School in Bath, in residence during the student degree show.
---
School Without Walls embodies a philosophy that places the children at the centre of their own learning. By transplanting them into a cultural setting, the conventions, behaviours and habits associated with the 'classroom' start to fall away. Our creative manifesto below, which is revisited by children each year and in a constant state of flux, demonstrates the impact of School Without Walls by the people who matter the most, the children and young people we work with.
Our Creative Manifesto
1. Be free to follow your fascinations
2. Ask and explore your own questions
3. Trust in your own ideas and interests
4. Express yourself
5. Work independently
6. Create a safe space to take risks
7. Attempt without the fear of failure
8. Be ok with the unknown
9. Be kind
10. Remember all our ideas matter
11. Choose how you do things
12. Be creative!
13. Do things in a different way
14. Cherish everyone's individual way of doing things
15. Think outside the bubble
16. Use your senses
17. Create time and space to explore and learn
18. Make real life choices
19. Be happy, engaged and achieve your best
20. Feel connected to your city and community
---
Authored by Dr Penny Hay, co-founder and mentor, School Without Walls; Director of Research, House of Imagination (formerly 5x5x5) and Reader in Creative Teaching and Learning, Research Fellow and Senior Lecturer in Arts Education Bath Spa University.
Follow House of Imagination on Twitter to keep up to date with all their latest news and projects.