Teaching during lockdown required the Geography team at Eastbury Community School to think of creative solutions to engage pupils and overcome the difficulties that came with teaching and learning from home. A key concern of our team was the enhanced amount of screen time for both pupils and teachers. We decided to create tasks away from computer screens which focused on consolidating learning by using items pupils could find in their homes. This was a way, we hoped, for pupils to be creative and think outside the box and encourage home learning away from the screen.
Imaginary animals and their eco-systems
One of the off-screen tasks we designed, for pupils in Years 7-9, required them to use their imaginations to create an animal, which doesn't exist, that could survive in an eco-system of their choice. This project helped pupils demonstrate their knowledge of ecosystems whilst challenging them to think about how their imaginary animal would need to adapt to survive. Pupils we're then asked to create their animal through either drawing or painting or alternatively making a 3-D model from household items such as cardboard, lego or even cake! The Geography team were so impressed with the levels of engagement and imagination by pupils who really enjoyed working in a new, creative way as demonstrated by one Year 7 pupil below…
"Creating my own animal has helped me to understand animals and their habitats even more! You never really think why these animals have adapted the way they have until you create an animal. It was almost like you are being that animal while you create it, thinking how will I get water? How will I be able to get through the night? Overall, the lesson was great!"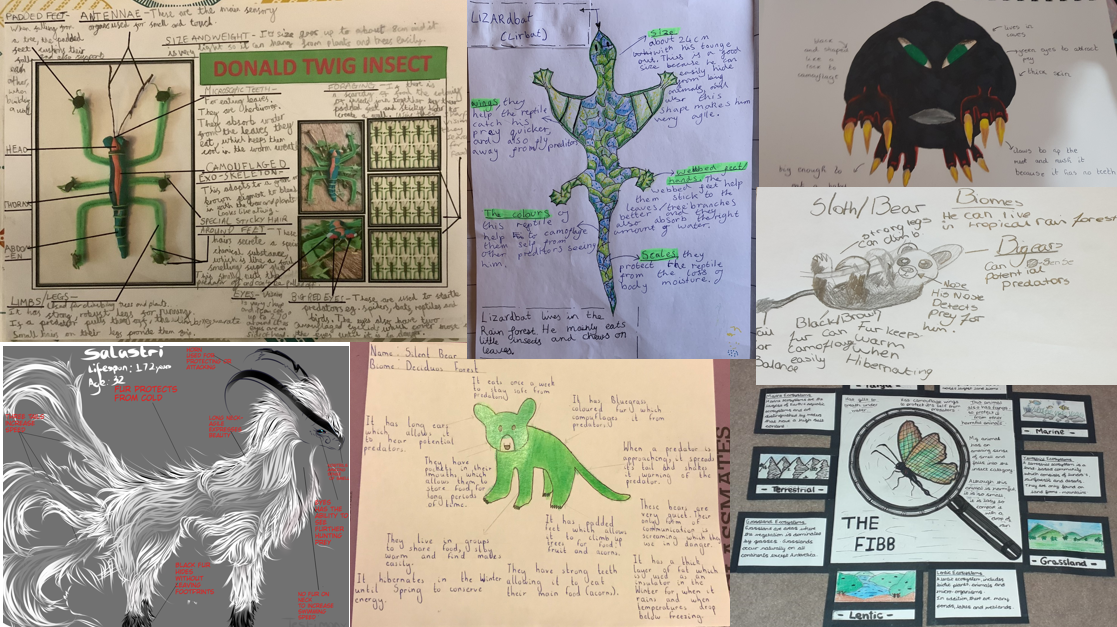 A global scavenging hunt in students' homes
Another lesson which pupils and staff alike enjoyed was our Year 8 globalisation project. Pupils were asked to collect items from around the house to spell out the word – globalisation - and then reflect on where these items were grown, manufactured or produced and why. Pupils had been learning about the positives and negatives of globalisation, therefore the lesson brought this learning to life by connecting young people with the items themselves.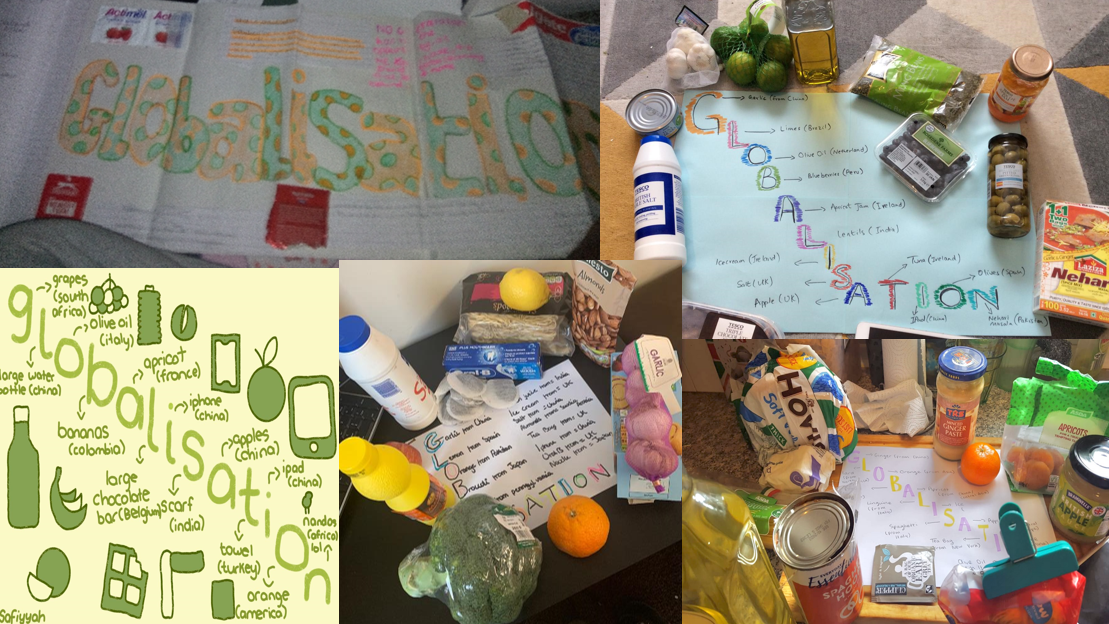 Reimagining coastlines with household objects
Pupils in Year 9 were tasked to think innovatively to produce diagrams of coastal processes and landforms from household items. Pupils commented on how much they enjoyed the work and appreciated that their lesson was away from a screen. One Year 9 pupil put it like this:
"I was set some consolidation work, unlike other departments where we are told to make revision notes or mind maps; I had to explain coastal processes using household items. At first, I didn't know what process to do the task on and after reading my notes, I noticed that the formation of stacks could be shown through Jenga pieces! I ended up creating a short video of how stacks were formed with Jenga! The task didn't take too long, was good revision and helped take my mind off of the existence of Covid-19."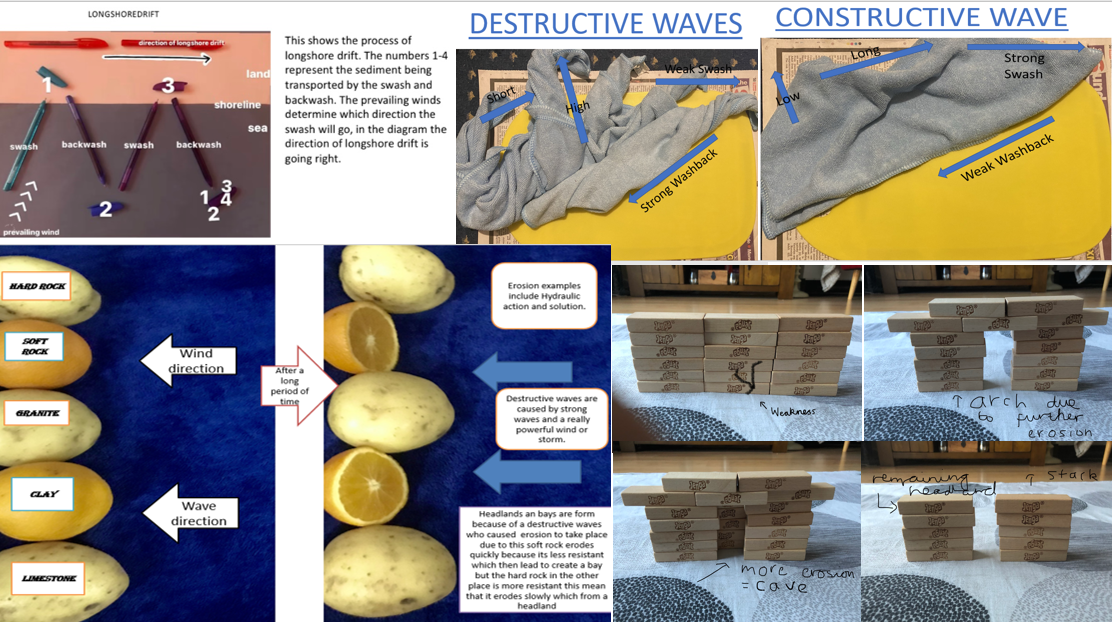 Our work in the Geography department was shared amongst other departments to reflect and share our learning, we've highlighted the key points below:
Spending time away from the screen and handling physical objects allowed students a change in focus and created a positive, fresh engagement with their home learning.
A positive class experience was created, particularly in younger years who enjoyed sharing their findings on camera as a 'show and tell'. Whilst older students enjoyed interacting and sharing their findings on the chat function which encouraged peer-to-peer learning.
The challenge of finding objects within their homes within a time constraint added excitement and fun to our home learning lessons whilst also encouraging creative thinking and exploration.
Allowing students to use their own materials provided a personal experience during writing and students produced some exceptional pieces!
Lockdown forced us to think more creatively about how we can teach Geography and we hope to be able to continue to build on this momentum. Whilst each task was low effort on our behalf it had a hugely positive impact in terms of pupil's learning and engagement. Creativity is a key skill needed throughout the curriculum, Geography included, it just needs the ingenuity to embed it in our teaching as we return back to the classroom.
---
Gurpreet Gill is Head of Geography at Eastbury Community School, a co-educational all-through school and Sixth Form in the London Borough of Barking and Dagenham. You can follow them on Twitter, here.