I'm Emily Reid, Creativity Collaborative Lead for St Bernard's RC Primary School in Ellesmere Port. We're really proud to be the lead school of the North West's Creativity Collaborative programme. Our collaborative is made up of 11 amazing schools from across Cheshire, Wirral and Liverpool. It includes primaries, secondaries, early years, specialist and alternative provisions.
Each school has a Creativity Champion who leads the work in their school. They are supported by a vertical slice creativity team, made up of staff, parents, children and members of the school community.
St Bernard's applied to be the lead school for Creativity Collaboratives for many reasons. Over the past eight years we have been developing our curriculum around the five creative habits developed by Bill Lucas and colleagues at the University of Winchester. We worked to build a curriculum that enables our children to become confident and capable learners, ready, willing and able to choose, design and pursue learning for themselves. Teaching for creativity was a key focus for this. Wellbeing was also at the core of our work. We strive to find as many ways as possible to help young people find meaning, worth and value. This is even more important following the impact of Covid-19. Creativity has been shown to have a positive impact on wellbeing so we felt that this action research programme would help us develop this work further. We are passionate about partnership and we felt working as part of a collaborative would be an excellent opportunity to develop and share good practices.
Why C Change?
Creativity sits at the core of our work across all our schools but we felt that the partnership with the community was also a key factor that we wanted to explore through our work. Through partnership and innovation, we wanted to create experiences for our young people that defined a new culture of learning together.
To help us communicate these messages we have created a brand identity and logo - 'C Change'. There is a play on the phrase 'C Change'. We wanted to 'see' change but also there was a change happening by the sea where our schools are located - a literal 'sea change'. In the seaside town of New Brighton, where one of our secondary schools is based, there is inspirational regeneration work happening involving local and international artists, innovative use of spaces and the cultivation of new and independent business. This work, recognised by the select committee for the regeneration of seaside towns, gives an interesting platform for curriculum development at St Mary's and is also the location for our annual conference to celebrate and share this work in the Floral Pavilion Theatre. From all of these strands of thinking, C Change was born.
Our line of inquiry
Over the next three years our inquiry will focus on this question:
How do creative pedagogies contribute to the experience of education for young people from disadvantaged backgrounds? Additional lines of enquiry to explore the primary research question:
What are the conditions needed to foster a culture of curiosity and creativity within and across schools?

What pedagogies effectively cultivate creative thinking across the curriculum and in particular for DA pupils?

What strategies support effective cultural and creative partnerships for schools, communities and young people?
Our progress so far
It has been an amazing first year for our 11 schools. Even with the challenges of Covid, each school has ensured their work on creativity is a priority.
Our main focus has been exploring the conditions for creativity to thrive in our schools and developing a consistent language around creativity.
We have had many successes:
Creativity identified as a key priority across all schools
Shared understanding and language around creativity and teaching for creativity developed

Network

-

wide conditions established for creative and collaborative learning

Curriculum intent redefined around creativity, across

all

schools in the collaborative

Networks for creative partnerships explored.
St Bernard's RC Primary School has been exploring 'How does using consistent language of collaboration develop a deeper understanding of creativity for staff in order for them to implement it in their classrooms?'
Here is a video of some of the work they have done around collaboration.
Kelsall Primary School has developed their own model for the creative habits they feel are important for their children and school community to develop.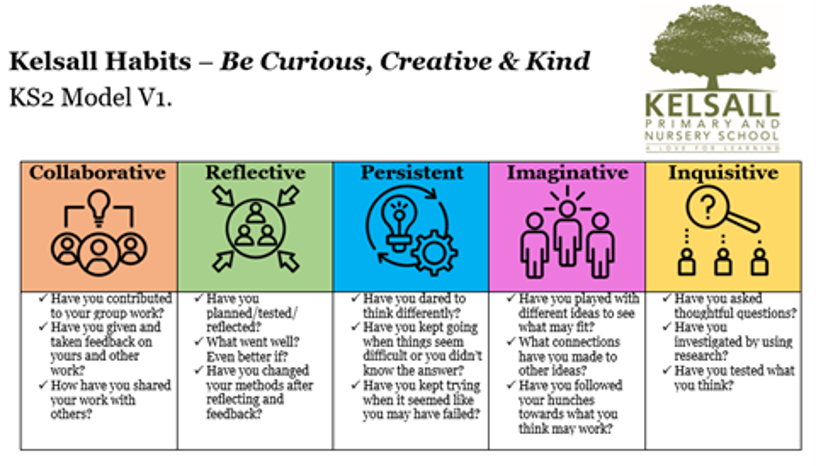 They spent time exploring a variety of models and used Early Years documents to help shape the language so it is accessible to EY and KS1.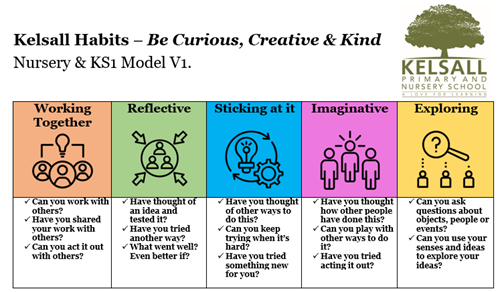 St Mary's Catholic College has designed an Inspire Curriculum, which is built on the development of creative habits of mind.

The Inspire Programme is a Personal Development programme that aims to develop pupils into confident, curious, respectful, resilient, creative and ambitious young people with a mind to be kind. It has been designed to be diverse, modern and engaging. It is a curriculum that supports all pupils to become successful global citizens with the skills, knowledge and confidence to have a positive impact on our community.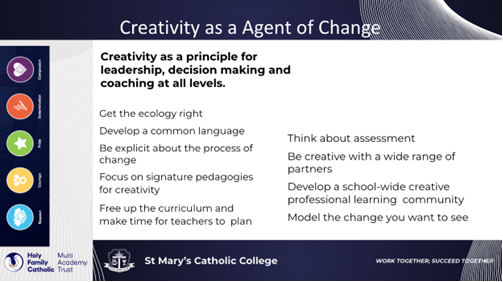 During the first year of the collaborative, activities have included
Regular knowledge exchanges to deepen understanding of creativity
Implementation Science for Schools training

Practitioner Inquiry training

Half termly meetings of Creativity Champions

Student creativity councils established.
Next steps
In September we saw our first ever C Change Conference. It was an immersive event, where educators, cultural professionals and members of the creative industries came together to experience, explore and exchange ideas around creativity. Our second annual conference will be on Thursday 21st September 2023. Save the date!
This coming year we are now moving into exploring signature pedagogies and how these can help develop the five creative habits. We will continue to work with our research partner James Mannion (UCL and Rethinking Education) to develop our skills as action researchers.
All schools will have established student creativity councils. In the summer we will be hosting a creative marketplace where schools and creative industries can connect and create new partnerships. This will lead into our work around careers and aspirations.
Some of our schools are also going to be exploring the use of learner profiles with the support of the Rethinking Assessment programme.
Emily Reid
Creativity Collaborative Lead and Assistant Head at St Bernard's RC Primary school.
Twitter: @MissReid07 @CChangeNW