The North West Comino Creative Consortium (NWCCC) is a cluster of innovative schools and colleges across Greater Manchester. NWCCC is made up of Abraham Moss Community School, Derby High School, Falinge Park High School, Ladybridge High School, St Gabriel's High School, St Monica's High School, Sacred Heart Primary School and The Manchester College.
The schools in the NWCCC work together to develop and put into practice creative pedagogies. They want to enable pupils to experience real world learning and become aware of their own creative potential. For some years they've been working in partnership with each other, as well as with creative, cultural partners throughout the region. These include creative industries, museums, galleries, theatres, universities, artists, designers, makers, poets, engineers and scientists.
Opportunities for teachers and pupils to develop their creativity
The vision of NWCCC is to make sure that pupils and teachers have broad and well-informed experiences of the creative life of their region along with opportunities to experience learning together. Everyone has the chance to develop their own creativity through sharing in Consortium activities.
Through responding to the challenges within those activities pupils and teachers develop:
A growing understanding of their own capacity for creativity;
A rich awareness of the career opportunities in their region and beyond;
Greater confidence in their capacity to take advantage of those opportunities;
Motivation to contribute positively as active citizens in their communities.
Building a reflective community
A related aim of the Consortium is that teachers as well as colleagues in a network of universities, cultural and creative industries and other workplaces across the region, will open up their professional practice to reflection and debate, with a particular focus on activities and experiences which promote teaching for creativity. As part of this, teachers engage in action research, exploring the impact of their practice on the young people they teach. Teachers also develop a more comprehensive and up-to-date understanding of the career opportunities open to their pupils and of the practical, digital, technical and personal expertise expected in the modern workplace. And, most importantly, they find themselves teaching for creativity!
The NWCCC's aim has been to create a powerful, grass roots community which engages education practitioners from primary level to HE. This helps them work in partnership with practitioners from the cultural sector, the creative and tech sectors and the social justice community, to shape and co-create 'real world learning' opportunities for young people in these schools.
The consortium is action-oriented and practice-based, with a particular focus on supporting all stakeholders to extend their repertoire of creative and social learning pedagogies, and to evaluate these through action research.
Working Collaboratively to teach for creativity
For the last seven years NWCCC has been running the Creative Digital Designer in Residence (CDDIR) programme. This is a three-way partnership project, whereby a student designer from Manchester School of Art, through an internship supported by a bursary from the Comino Foundation, is partnered with a teacher and a cultural partner to develop a collaborative project. There have now been a total of 39 CDDIR projects with 9 schools and 11 cultural partners alongside 45 teachers and approximately 650 pupils have taken part.
---
Students from Abraham Moss worked with Rebecca Burns on a project about Human Rights, working with Manchester Art Gallery.
---
The partners work together to devise a creative and innovative project that brings digital design to life for the class. This can be anything from graphic design to film making, textile design to 3D modelmaking. Each project is different but is always inspired by the collaboration between design student and teacher, the cultural partner, and what will best suit the class in question. You can access a film of the CDDIR here.
The programme enables partners to share and exchange insights, skills and experience as they work together. Below we've gathered feedback from some of the CDDIR partners:
It was a joy to meet with such enthusiastic teachers and to hear about the ways in which they had engaged their students in STEAM activities.
Dr Helen Mason, Solar Physicist, University of Cambridge
It was fantastic to see the students respond so positively to the collections at People's History Museum. None of the group had even been to the museum before and now they are creating beautiful work inspired by their visit.
Liz Thorpe, People's History Museum (PHM) Education officer
The engagement of students has surpassed my expectations. The development of key skills and confidence to work with outside agencies has been amazing.
Kelly Rogers, teacher Falinge Park
Impact of collaborative learning
The programme helps to develop the professional and career potential of the pupils, students, and educational practitioners. We find that these real-world opportunities the CDDIR programme offers encourage deep and sustained learning. A visit to a gallery or museum becomes a brilliant way of engaging pupils in real-life issues - it has much more impact than introducing topics in the classroom. For many of the pupils such visits, that take place as part of CDDIR, are the first time they have been exposed to these contexts, to their artefacts and artworks.
---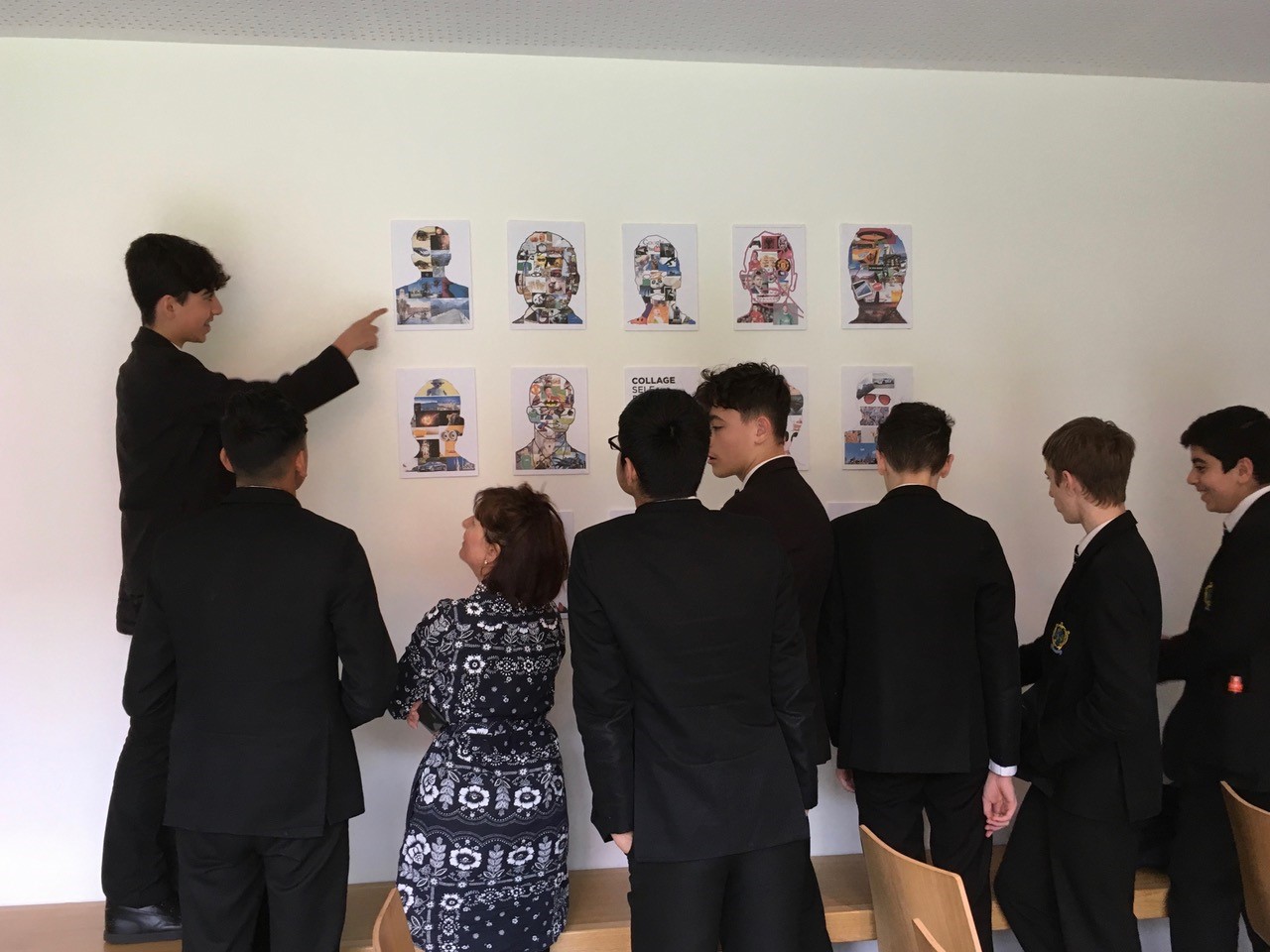 Students from Abraham Moss School visited the Whitworth Art Gallery, and worked with Graphic Designer Sara Merkaj to create digital self portraits.
---
The CDDIR project is just one of many examples of NWCCC projects. Others in the past year have included:
A focus on digital creativity during Covid-19
An employability bootcamp
A programme with the Robert F Kennedy Human Rights Foundation - Speak Truth to Power
A collaboration with Textile designer Sam French on a Human Rights project.
---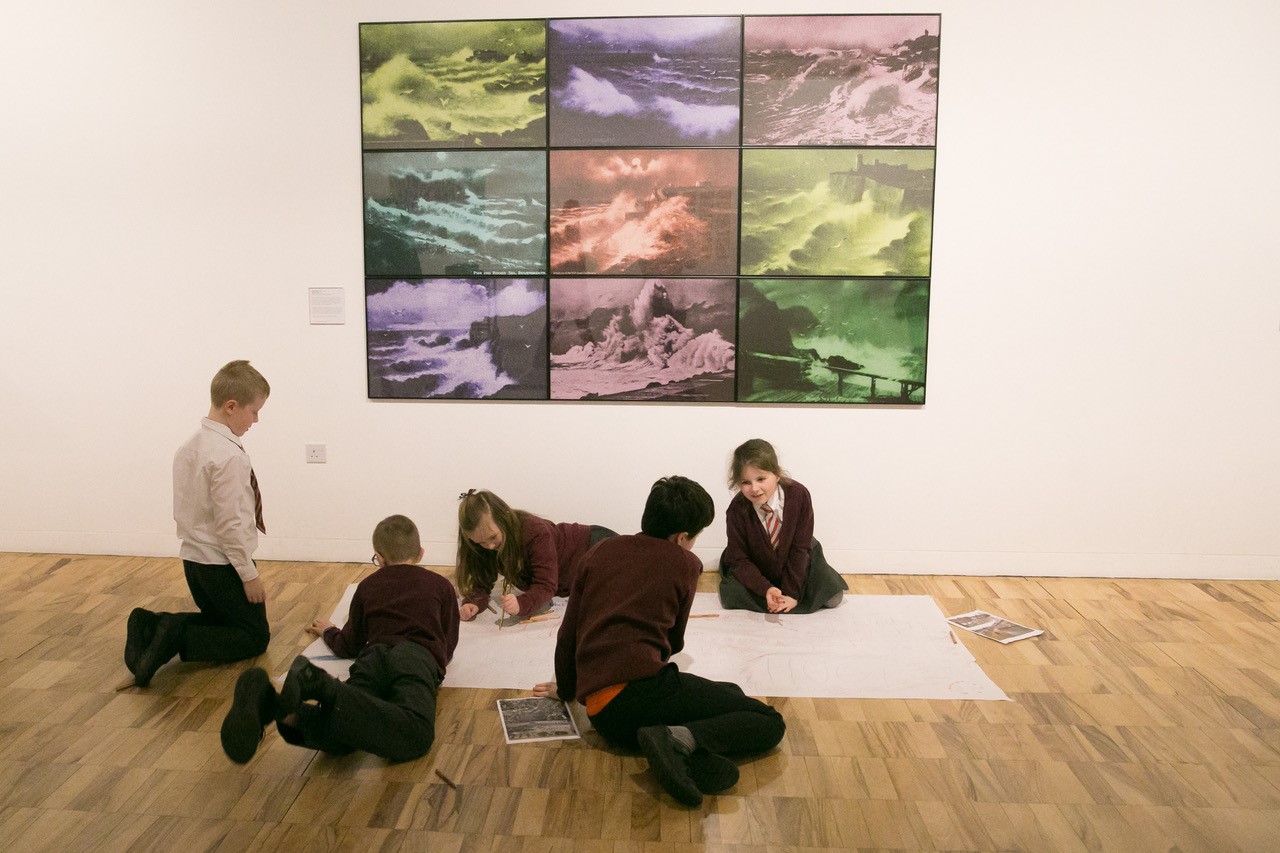 Pupils from Sacred Heart Primary school worked with Textile designer Sam French on a Human Rights project, creating wallpapers investigating the climate emergency and the plight of refugees.
---
Creativity as a means of defining identity
The experiences of the NWCCC suggest that the kinds of creative learning experiences they offer support students' to develop their sense of self, as these two teachers reflect:
Giving our learners the opportunity to engage in real world learning experiences where they learn outside the classroom and meet professionals from all walks of life is at the heart of our vision – we want to provide an authentic learning culture.
Sue Catlow, Assistant Headteacher, Ladybridge High School, Bolton.
The projects that have been most successful have spoken to children's cultures, passions and interests through artists and art forms they can relate to which is demonstrated by a quote from one of our participating schools below:
Education and Cultural partners share the desire that everyone should feel ownership of their cultural institutions and it is only by working together that pupils' voices can influence programming and curatorial decisions that start to ensure that under-represented voices are heard.
Jo Sliwa, Head of Creative Arts, Abraham Moss Community High School.
Teaching for Creativity
Members of the NWCCC took part in a consultation at Windsor Castle organised by the Comino Foundation exploring the Durham Commission on Creativity and Education. Headteachers, teachers and members of various cultural organisations explored perspectives, pedagogies and practices conducive to teaching for creativity.
NWCCC is a long-standing collaboration to build confidence among teachers and those working with them to teach for creativity. Every year NWCCC produces a yearbook showcasing their creative ideas and packed full of practical ideas. You can download the latest copy below. The yearbooks provide a compelling narrative of sustained innovation and inspirational partnerships and show NWCCC at work in the context of regional and national policy change.
Download NWCCC's 2020 yearbook
---
For more information about the NWCCC contact Pat Walters, Director of Strategy. Find out about the Comino Foundation work to support creativity and practical learning.