I'm Sarah Childs from Penryn College, an 11-16 school on the south Cornish coast. Initially drawn to the Creativity Collaborative programme when hearing Sir Nicholas Serota speak, we knew the Creativity Collaboratives Programme shared our vision for inspiring teaching and learning for our future curriculum. The Penryn Partnership is an established network of nine schools working together for almost 20 years. It is built on a vision that children from ages 4 - 16 will have a breadth of experiences across curriculums, enabling them to be creative, resilient, independent learners with a thirst for knowledge and exploration. 
What are you exploring?
The Penryn Creativity Collaboratives seeks to explore:
'Does the teaching creativity across the curriculum lead to young people who are better prepared for their future in a changing workforce?'
We aim to 'Inspire Teaching and Learning' for a future curriculum and ensure our 'learners' creativity is cultivated across the school curriculum'. We want to know the impact that teaching for creativity has on better preparing our young people for a future curriculum with the support of our Research and Impact partners at the University of Exeter.
Tell us about your progress so far
In Year 1 we set out to 'Question, Challenge and Explore', working towards creating a 'Preparing for a Creative Future' framework.  During Spring 2022, working with expertise of Associate Professor Kerry Chappell and Ursula Crickmay from the University of Exeter, we leapt into a range of explorative research methods;
a literature review

a business and cultural partners survey

a range of focus groups, and interviews to explore approaches to teaching and learning (T&L) across the Penryn Partnership
We have just launched our Year 1 Creativity Collaboratives report. Download it here.
Join us at a webinar, hosted by Real Ideas, on Wednesday 22 February, 4pm-5pm. Book online.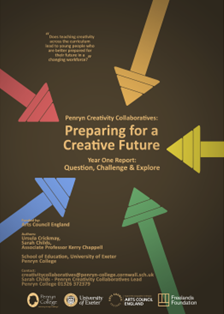 What's next?
We are excited about our plans for Year 2 as we focus on the opportunity to 'Build and Test'. The aim is through developing and promoting high quality action research, with the guidance and expertise of the University of Exeter, we will build and test a range of innovative approaches to the teaching of creativity across our Partnership curriculum. We are thrilled to have 15 teachers representing every school in the partnership taking part in an action research project working with young people from EYFS to KS4. Each Action Reasearch lead will be following their Research Question linked to the Penryn Creative Skills building and evaluating our experience of the teaching for creativity in our classrooms.
Sarah Childs
Penryn Creativity Collaboratives Lead
Email: creativitycollaboratives@penryn-college.cornwall.sch.uk
Twitter: @collegepenryn
Find out more about Creativity Collaboratives here.